Sightseeing Car Tour in Athens
---
Athens is one of the most beautiful cities in the world, being the cradle of Greek civilization and much more. It is impossible not to think about visiting it at least once in your life because it is a destination that has a lot to offer. A car tour of Athens is what you need to get to know the city stress free and enjoy every detail. It''s also important to make sure you see everything you want to see when you want to.
Travelling around the city in a comfortable car will give you a truly unique experience. Discovering the Acropolis of Athens, the Parthenon, Syntagma Square and, again, seeing all the beauty of an ancient world that has given us so much, is both powerful and exciting. Afterwards, you will be able to see all the archaeological sites you have studied in school textbooks. You can lose yourself in discovering everything that is distinctive about this city. All with the comfort of a personalised tour based on your preferences and interests. For your trip to Athens you couldn't ask for anything better.
VISIT ATHENS BY PRIVATE CAR
Discover Athens with a personalised car tour;
Know the price in advance and you won't have any surprises at the end of the tour!
Fully licensed professional drivers;
Suggest the places you want to visit or get advice from the driver;
Only pay a small deposit in advance;
Pay the balance directly to the driver;
Prices from €30 per person!;
What can I visit?
You can discover everything you want about Athens. If you are interested in history and archaeology, you will have many options, as you will be given the opportunity to visit whatever you want. You can decide your own personalised itinerary that will take you through the streets of the city and allow you to see everything you have ever dreamed about.
Syntagma Square with the House of Parliament is the beating heart of modern Athens, which is in tune with the times and is designed in every respect as a beautiful European capital. Something to visit when you feel like getting away from it all. This is also where the Tomb of the Unknown Soldier, one of the landmarks of Greek culture, is located. You can't miss the opportunity to take a walk in the exclusive La Plaka district, one of the oldest and most beautiful in the city. Here you can find shops, restaurants and churches. If you like flea markets, head to Monastiraki, another very picturesque neighbourhood, just after La Plaka. The National Archaeological Museum is the largest in the nation and contains items of major importance.
Beyond the centre of Athens..
Of course, beyond the centre of Athens, there is a world that all archaeology lovers cannot miss. You can arrange a tour of the Acropolis to discover one of the most important sites in the world. There is much to see here, because the valley at the foot of the Acropolis is full of beauty and things to discover.
Not only that, but the beaches of Athens, which are just outside the centre, are also worth a visit. The Greek sea is very beautiful and could be a surprise for many.
How long is the tour?
The length of the tour can be decided by you. We will not give you any restrictions because it is your personal experience. You can decide the length of the tour directly during your booking. All you have to do is indicate the option that best suits your particular interests and you don't have to do anything else.
You can judge the time you have available and decide how much to spend on visiting the city' s wonders. This way, you can do everything calmly, away from the stress generated by overcrowded public transport in a large and populous city like Athens.
How many sights can I visit?
There is no limit on the number of sights you can visit. With our service you can arrange to visit the individual places, as long as you stay within the reserved time. You can spend more or less time depending on your interest and preferences. However, you should know that for a complete tour of the city, you should try to dedicate the right amount of time to each attraction, so that you can visit them all, taking advantage of the convenience of having a driver waiting for you and ready to take you to the next stop. Alternatively, if you still don't know what to visit or simply don't have time to create your specific itinerary, you can ask for our support and after booking we will send you our complete catalogue of the most popular and already widely tested tours in Athens.
How to book a car tour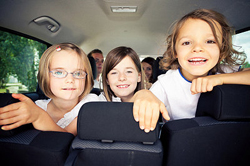 If you would like to book a car tour to discover Athens, all you have to do is complete our booking form on this page. We will ask you how long you would like your tour to last, how many people will be involved and your personal details which we will use to contact you for recommendations or information about the tour. This way we can organise your experience better, making it absolutely unique and personalised in every detail. To make a booking, you will need to pay a small deposit by credit card and pay the driver directly in cash. You will have an expert driver available who, in addition to driving you, will be happy to give you the best advice and make you discover some gems that you would otherwise not be able to see.
Product code: TOU-CRAT;
Available every day subject to booking